Essex Designed AP Racing Radi CAL Competition Brake Kit CP9668
Part #: 13.01.10046
Brand: Essex & AP Racing
Complete front Essex Designed AP Racing Radi-CAL Competition Brake Kit for the F80 M3 F82 M4 F87 M2 & M2 Competition:
Saves 24 lbs. of unsprung weight vs. the OEM M2 Competition front brake package!
Fits inside popular 18" track wheels
Features AP Racing CP9668 Radi-CAL Pro5000R six piston calipers
372x34mm, 84 vane AP Racing disc
Saves roughly 8 unsprung lbs. from the nose vs. the standard OEM iron brake package
Every component designed to resist the heat of extended track sessions
Pistons sized properly to allow for seamless integration with OEM master cylinder and ABS system
Designed to work with OEM rear brakes or our Essex/AP Racing rear BBK
9668/372- F80 M3 F82 M4 F87 M2 & M2C
WHAT'S IN THE BOX?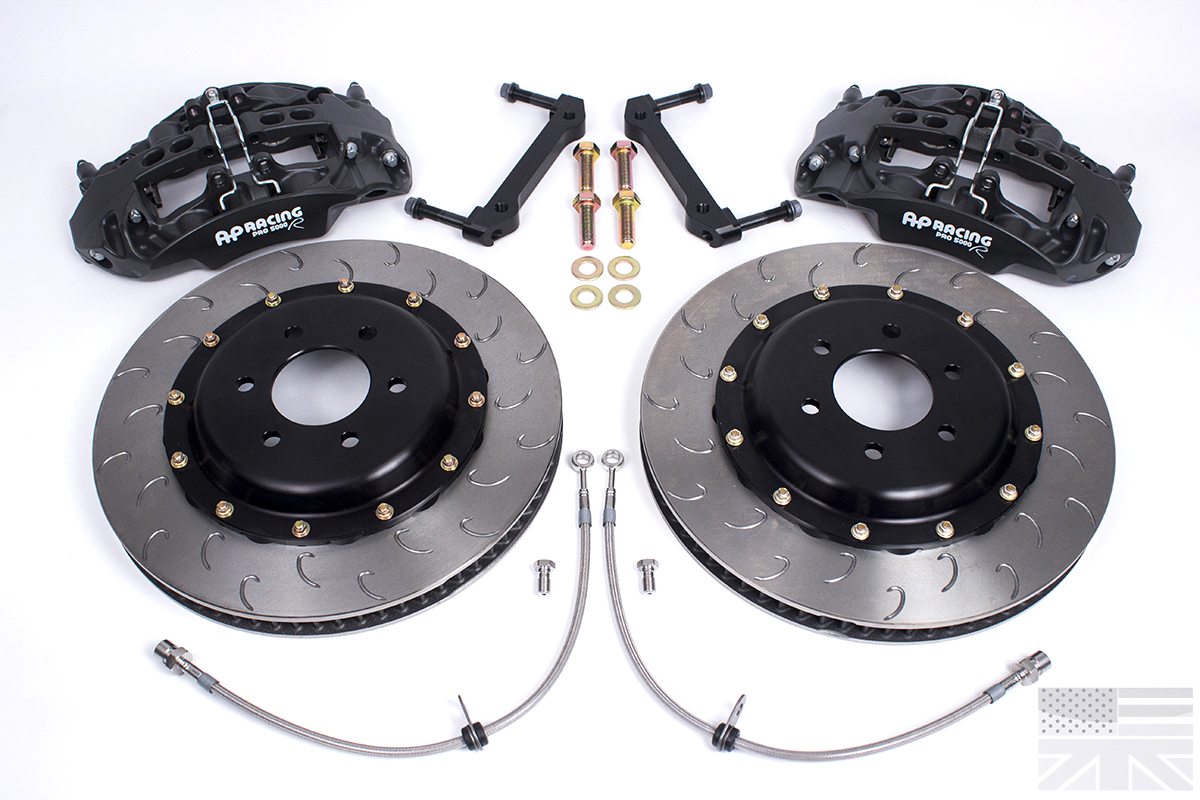 One pair AP Racing CP9668 Radi-CAL Pro5000Rsix pistoncalipers
One pair 372x34mm AP Racing CP6084, 84vane, J Hook racing discs, with fully floating 6061 hard anodized aluminum hats, and attachment hardware
One pair caliper mounting brackets and hardware
One pair Spiegler Stainless Steel Brake Lines with abrasion resistant coating
Detailed installation instructions
Brake pads are NOT included with our system. Racing brake pads are a highly personal choice. Many manufacturers include a set of inexpensive,low quality pads with their brake kits. Rather than artificially inflating the price of our system with a set of pads you probably don't want anyway, we've decided to remove the cost from our system and allow our customers to choose the pads that best suit their needs/wants. When purchasing our kit, you are able to choose one set of front pads at a substantial discount vs. the retail price. Please use the drop-down menu to select your pads.
Advantages Over OEM Brake System
Our CP9668/372mm Radi-CAL Competition Brake Kit offers our customers the following advantages over the OEM brake system:
Approximately 8 lbs. of unsprung weight reduction vs. the OEM standard front iron brake package
AP Racing Radi-CAL calipers are the stiffest, lightest, and most technologically advanced calipers available at any price
CP9668 calipers use a 25mm thick, commonly available brake pad shape
Ventilated, domed back, stainless steel pistons keep heat out of the brake fluid and provide an ultra-firm pedal
Mitigation of pad knockback via anti-knockback springs behind the caliper pistons
Anodized caliper finish that is resistant to wear and deterioration at elevated temperatures
Stainless steel caliper hardware for a long caliper service life under frequent pad change conditions
High temperature, low drag seals that will hold up to track temps= less rebuilding and longer service life
No dust boots to burn up
Simple pad change with two bolts or quick-change spring clip, no caliper removal required
Lifetime professional caliper rebuilding support by Essex (at a fee)- pull off your calipers, send them to us, we clean, inspect, and rebuild them
Available disc burnishing service ensures that your kit arrives ready to be installed and driven hard immediately
Championship winning, 84vane, fully floating, AP Racing J Hook racing discs with 12 attachment points to hat
Anti-knockback/anti-rattle disc attachment hardware
Replacement iron disc rings available at an extremely competitive replacement price
Disc metallurgy specifically designed to handle the temps typically seen on track offer a long service life
Highest quality, Spiegler stainless steel brake line withclearsheath that reduces compliance over OEM rubber design
See more details onEssexsite:
http://www.essexparts.com/essex-designed-ap-racing-radi-cal-competition-brake-kit-front-cp9660372mm-f80M3f82M4?utm_source=EmailzDirect&utm_medium=Email&utm_content=Subscriber%2349&utm_campaign=5-11-16%20New%20BBK